Iwate Antenna Shop
Guide to Iwate Ginga Plaza
Safe and delicious food products, born from Iwate's pristine soil and water.
Come and enjoy Iwate Ginga Plaza,
where approximately 1800 "Iwate Brand" items,
like artisanal products made by the skilled hands of Iwate's craftspeople,
supported by long years of history and tradition,
have been brought together under one roof.
Guide to Iwate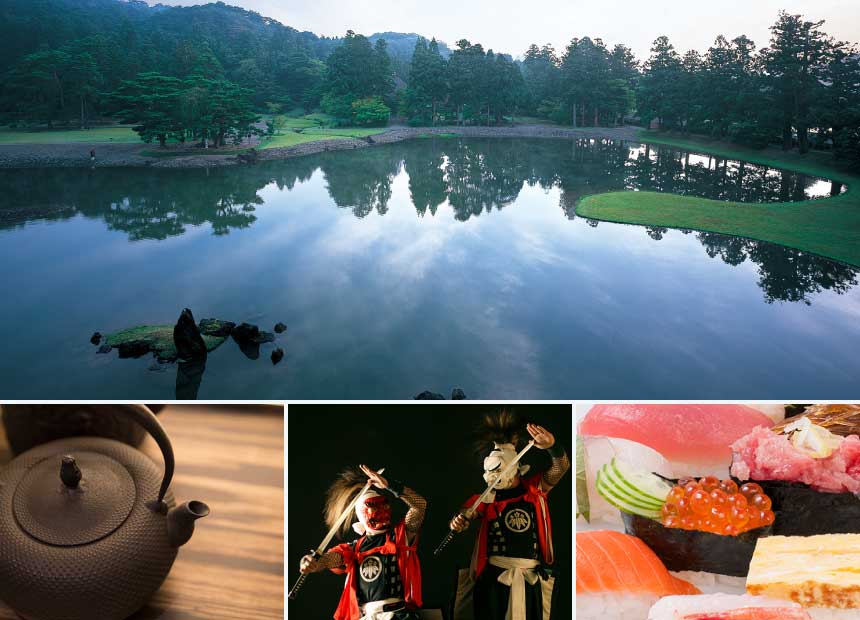 Iwate Ginga Plaza is a shop that sells food and handicraft items from Iwate.
Iwate, second in size only to Hokkaido, varies greatly in temperature through its four seasons,
and is blessed with a wide variety of agricultural products.
The prefecture lies across from the Sanriku-oki, one of the world's three greatest fishing grounds,
and so is also blessed with abundant marine products.
There is also a wide array of crafts made in Iwate, such as famous Nambu ironware and Kuji amber.
Iwate Ginga Plaza
At Iwate Ginga Plaza, you can browse and buy about 1800 different products,
such as food and handicraft items from Iwate Prefecture.
We also hold various events every day.
Please come and joy numerous simple and delightful items from Iwate.

[Open Hours]10:30 AM – 7:00 PM (last day of every month closes at 5:00 PM) 
[Open Days]Open year-round (except for end-of-year/New Year's holiday)
15-1 4-chome Ginza, Chuo-ku, Tokyo Nankai Tokyo Bld. 1 F TEL:03-3524-8282 FAX:03-3524-8286
Metro Hibiya Line [Higashi-ginza Station] In front of Exit 6
Toei Asakusa Line [Higashi-ginza Station] 1 minute walk from Exit A1
Items Offered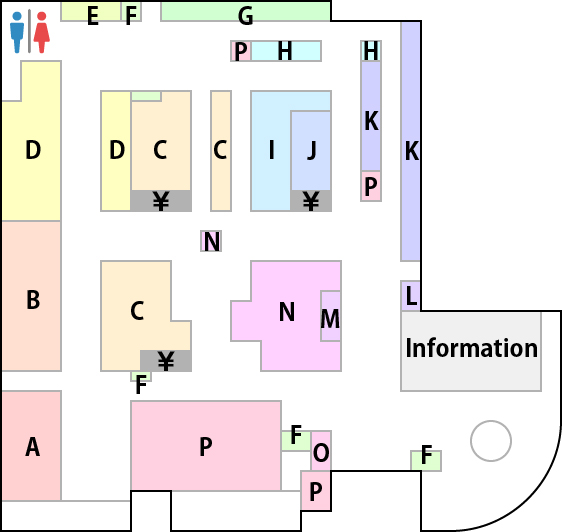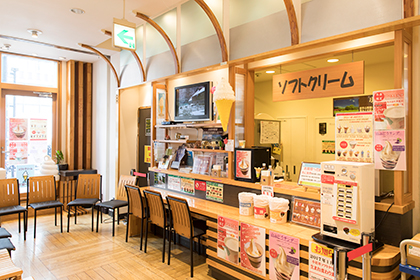 A. Soft Serve Ice Cream Corner
Come relax and enjoy the tastes of Iwate, such as our popular Koiwai Farm soft ice cream, and our coffee and café lattes.
B. Mebuki Corner
Here you will find, straight from shops in Iwate, Japanese sweets like dango (sticky rice dumplings), mochi (pounded sticky rice cake), daifuku (mochi filled with red bean jam), and ohagi (sticky rice coated with red bean jam). Our zunda (mashed soybeans) ice cream is also a must-try!
C. Noodles, Condiments, and Seaweed Corner
Here you can find Morioka reimen (cold noodles), jajamen (flat noodles), and wanko soba (buckwheat), as well as select condiments and seaweeds, each expressing the unique tastes of Iwate cuisine.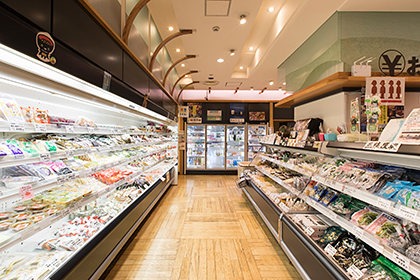 D. Refrigerated Foods Corner
Our shoulder bacon, made using 100 percent Iwate-raised pork, is especially popular. We also have a wide array of agricultural and marine products.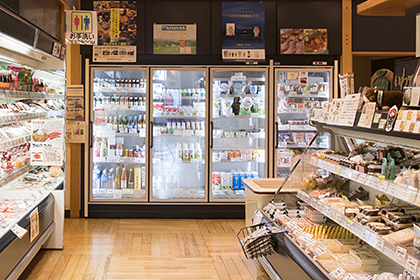 E. Beverages and Dairy Corner
We have a wide selection of delicious juices and beverages made from Iwate ingredients and fresh dairy products as well.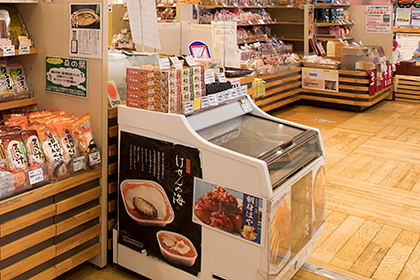 F. Frozen Products Corner
Frozen delicacies and ice cream, as well as seafood and agricultural produce frozen at their peak of freshness. We also have here Nakumuraya's famous "kaihōzuke" seafood bowls.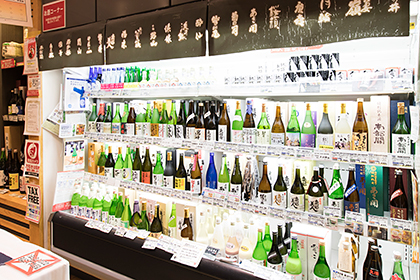 G. Regional Saké, Beer, and Wine Corner
A large lineup of regional beers and wines brimming with character, and famous Iwate sakés, crafted by the honed skills of Nambu master brewers.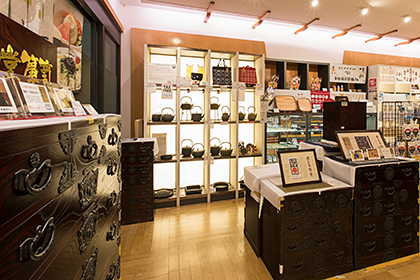 H. Iwayado Tansu (Wood Bureau) Corner
Dignified wooden bureaus, full of character, these "Iwayado tansu" have been made since the glory days of Hiraizumi, nearly a thousand years ago. Come have a look at these traditional masterpieces.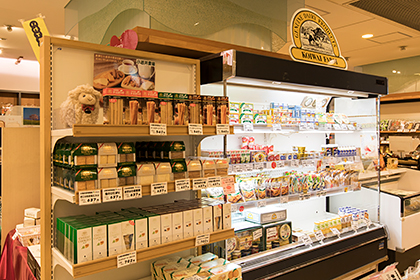 I. Koiwai Corner
Here you'll find a wide variety of items, from dairy products (such as cheese, butter and yogurt) to sweets, all products of both Koiwai Farm's skill and its clean natural surroundings.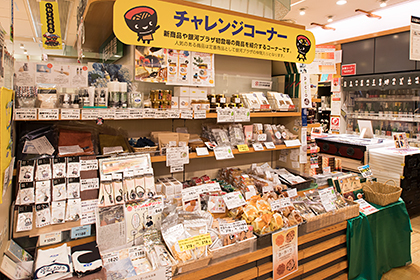 J. Challenge Corner
Here you'll find a lineup of new products and products our shop is selling for the first time. You can be the very first to purchase them.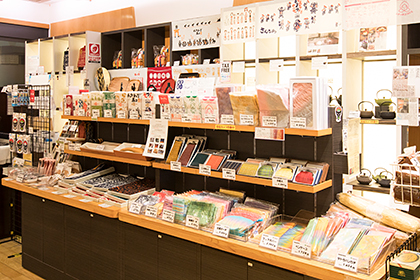 K. Handicrafts Corner
Here you'll find Nambu ironware, now famous throughout the world, on display and for sale. We also have a lineup of traditional and craft products.
L. Books, DVD, and CD Corner
We have a full selection of books and other printed material published in Iwate, as well as books, DVDs, and CDs related to Iwate.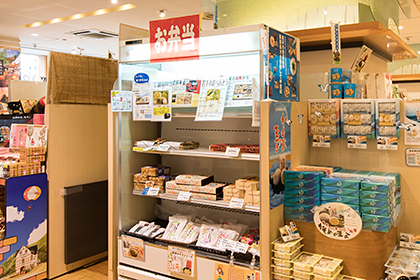 M. Bento (Lunchbox) Corner
Every day we offer a wide selection of fresh boxed lunches made in Iwate, brimming with regional character and taste.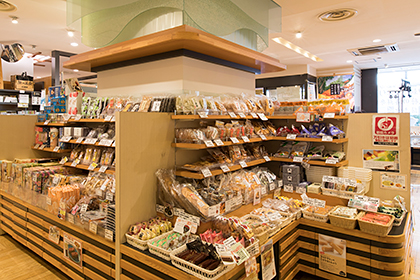 N. Snacks Corner
We have a large selection of both western snacks and Japanese snacks, like Nambu sembei (rice crackers), kamome tamago (egg-shaped sweets), and Iwado yokan (red bean jelly).
O. Vegetable Corner
We have fresh, seasonal vegetables sent to us directly from Iwate.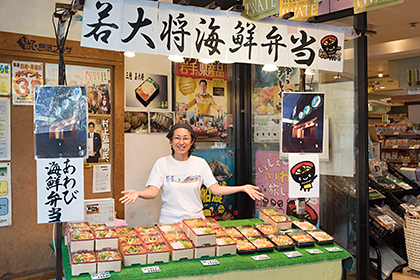 P. Event Corner
Events are held every day, where information is presented about organizations, businesses, products, and tourism in Iwate.
Interpretation • Translation Service
We provide language interpreter tablets so that customers
from overseas can enjoy their shopping experience at Iwate Ginza Plaza.
With one touch, you can connect with an interpreter from
anywhere in the store and receive interpreter services through video conferencing.
Because you are talking face to face with an interpreter specialist who speaks both Japanese and your language,
you can get answers to questions that may have more subtle nuance or be difficult for a machine to pick up on.
Tablets are provided at each of our registers, so place ask the staff behind the register for one.
Return to Japanese Page